Why is a Full Exam Important?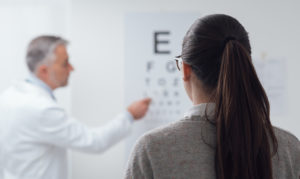 When you get a full eye exam at Fairborn Vision Center, you will get more than just a prescription. By having a thorough eye exam our optometrists can detect conditions such as cataracts, glaucoma and macular degeneration. Full eye examination may also allow our optometrists to detect other health related issues such as, high blood pressure, multiple sclerosis and diabetes.
Eye Issues We Look For
Farsightedness
Nearsightedness
Astigmatism
Presbyopia
Glaucoma
Eye Infections
Macular Degeneration
Cataracts
Dry Eyes
Need an Appointment?
You can schedule an appointment any time with our scheduling form. Simply click on the button and fill out the form for our team to follow-up and help you set an appointment. Of course, if you have any questions, you can call us at (937) 878-3941.
Schedule Now