Comprehensive Patient Care
Fairborn Vision Center focuses on providing comprehensive eye care for its patients throughout the region. This is to ensure that our team can be preventative throughout the process, catching eye health issues before they become issues. Our doctors are also equipped to provide treatment and management of most ocular diseases.
In addition, our staff is always available to provide a custom assessment of your glasses or contact needs. This is done by providing full assessments of each patient's facial and eye measurements, as well as listening to your individual needs and daily requirements for our eyeware.
Learn More About The Process
Optometry
Doctors of optometry are independent primary healthcare providers who examine, diagnose, treat, and manage diseases and disorders of the visual system, eye, as well as diagnose related systemic conditions.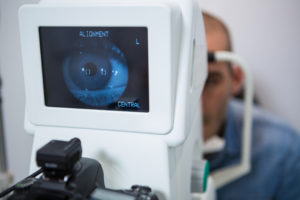 Optometrists examine the internal structure of the eyes to diagnose eye diseases such as glaucoma, cataracts and retinal disorders. The doctors also diagnose and treat related systemic diseases like hypertension and diabetes. Optometrists specialize in correcting vision disorders such as nearsightedness, farsightedness, astigmatism, and presbyobia.
An optometrists can prescribe eyeglasses and contact lenses to correct vision disorders, as well as low vision aids and vision therapy. They can also prescribe medications to treat or manage eye disease.