Frames & Lens Fittings
Eyeglasses are more than a fashion statement. They are an aid to seeing better. Are your getting the most out of your eyeglasses?
What We Check in Fittings
At our office, we offer a wide range of price, style, and technology in eyeglasses. Our licensed experienced opticians will perform digital measurements to assure the accuracy of you prescription eyewear. Our eyewear gallery has large selection of men's, women and children's frames.

Improper Fittings Can Cause Issues
If glasses are not fitting properly, you may not be getting the best vision possible out of your glasses. When purchasing frames, we offer advise on not only how the frames look but also how they fit your face. An ill fitting frame can not only cause discomfort but can make a difference on how you see. Our expert opticians are trained and certified in selecting lenses that have been prescribed by your doctor.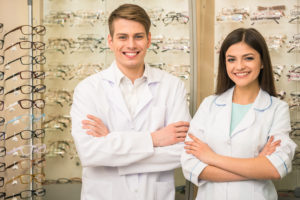 These lenses are customized for your lifestyle use. We offer premium digitally surfaced lenses and a variety of add on coating which help reduce glare and block out harmful UV rays.
We carry a wide variety of frame lines including Nike, Ray Ban,Jimmy Choo, Guess, Fossil, Safilo, Chesterfield, Carrera, Harley Davidson, Marchon, Kenneth Cole, Europa, Wiley X, Rudy Project, Flexon, L'Amy, Ted Baker, Kate Spade,Coach, FYSH, Silhouette, Nine West, Banana, Republic, Liz Claiborne, Calvin Klein, Uber, Jones NY, Elle, Candies, Saks 5th Ave, Nicole Miller, and more